FTTT NOTE: We thought it would be a good idea to post a story about Tony to the Dodo Community page. (This post was created by a member of the Dodo Community, where anyone can post fascinating stories, photos, videos and more.) Link to this post on The Dodo: https://www.thedodo.com/community/FreeTonyTheTiger/help-raise-awareness-for-capti-985877325.html

Tony, a Siberian-Bengal tiger, was born in July 2000 and has been at Tiger Truck Stop in Grosse Tete, Louisiana since he was a cub. According to Mr. Sandlin (Tony's "owner") he got Tony from a breeder in Texas. In 2003, three tigers: Toby and Rainbow 18 years old and 8 year old Khan were removed from the truck stop due to AWA volations which included: "unsanitary feeding practices; mishandling tigers; and failure to provide veterinary care, shelter from inclement weather, clean drinking water, and knowledgeable employees to care for the tigers." The USDA allowed Sandlin to keep one tiger, Tony, who was 3 years old at the time.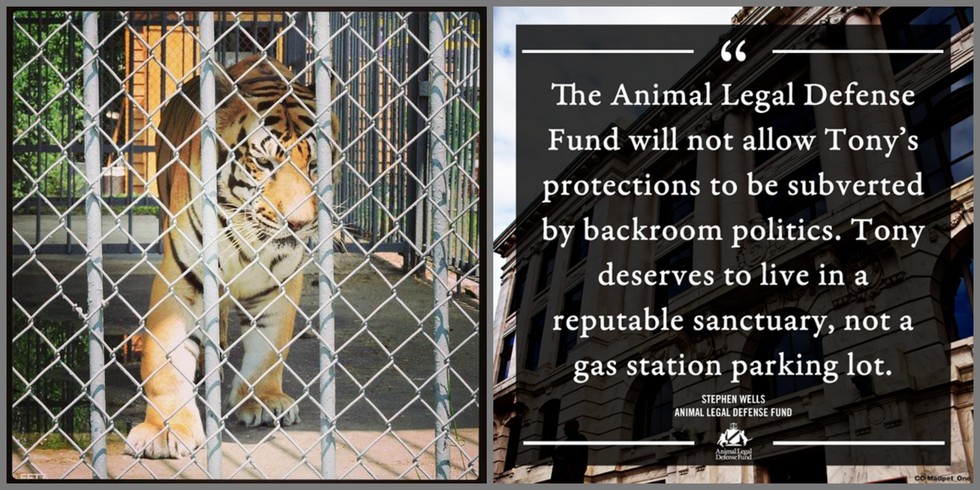 The Animal Legal Defense Fund continues to fight for Tony's release to a reputable big cat sanctuary.(Photo ©FreeTonyTheTiger2014)
Tony has brought worldwide attention to the serious issue of captive tigers in the U.S. where there are more privately owned tigers (est. 5,000 – 10,000) than left in the wild (est. 3,200.) Regarding Tony: Michael Sandlin's state permit was found illegal and revoked in 2011 by Judge Michael Caldwell; this decision was upheld by The Louisiana Appeal Court and the Louisiana Supreme Court. Though the Louisiana Department of Wildlife and Fisheries had the authority to seize Tony and enforce the law and these rulings, they refused to. When Mr. Sandlin exhausted his appeals he enlisted Sen. Rick Ward to propose a bill to exempt himself from the 2006 law barring private ownership of big cats. The bill was passed by the Louisiana Legislature and signed by Gov. Bobby Jindal. The Animal Legal Defense Fund has been working tirelessly on Tony's case and has filed a lawsuit on behalf of Louisiana taxpayers, challenging the state's new special exemption. http://aldf.org/cases-campaigns/timelines/tony-the-tiger/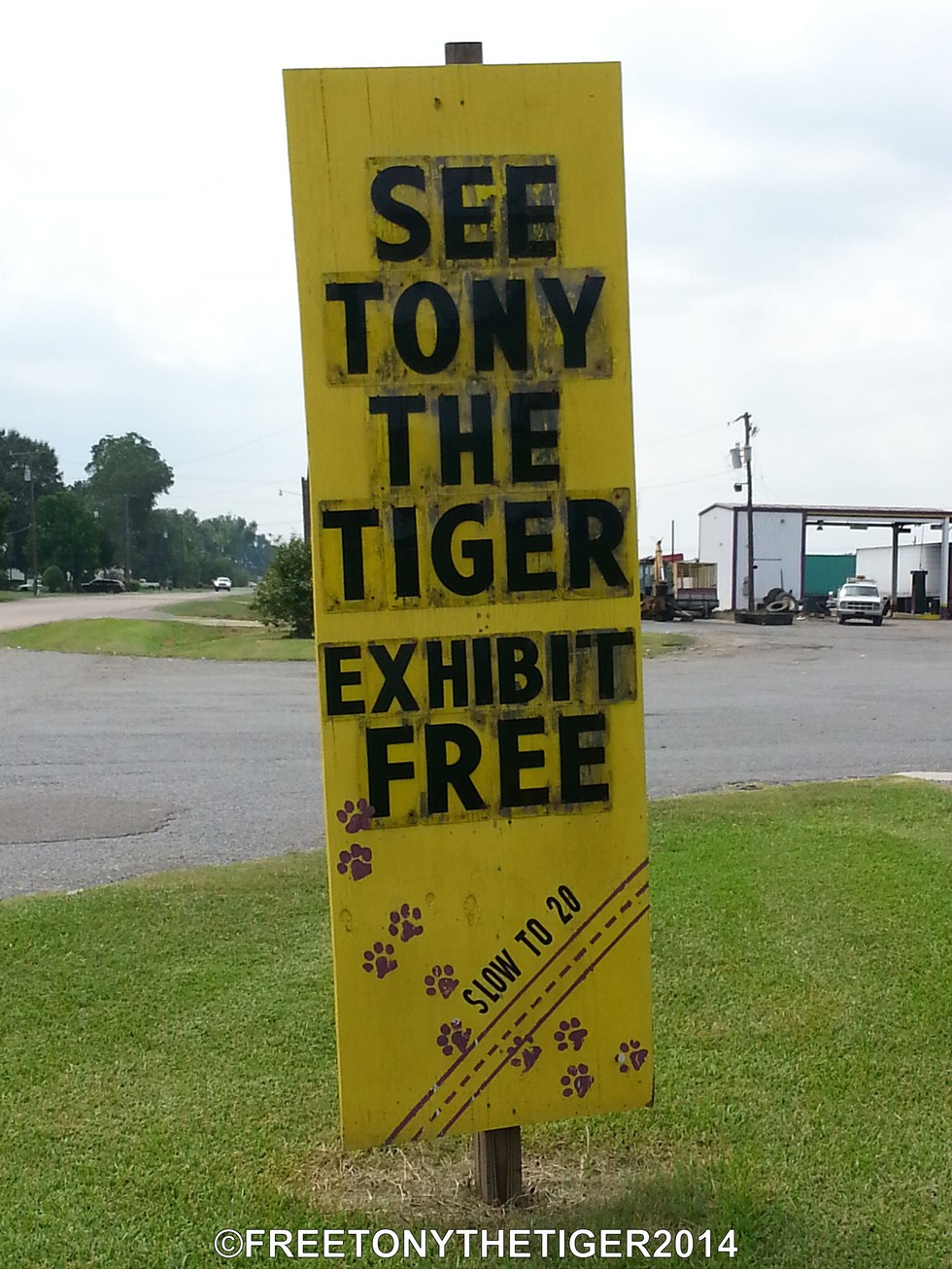 Sign at Tiger Truck Stop in Grosse Tete, Louisiana where Tony has been used as a roadside attraction since 2000. (Photo ©FreeTonyTheTiger2014)
Three sanctuaries have standing offers of homes for Tony. One such sanctuary's tiger habitats start at 8,000 sq ft or more, all natural substrate, perches, hammock, pool, toys/enrichment and access to an indoor temperature controlled building. Keepers have 4 year zoology degrees and a vet hospital on-site. Another sanctuary recently debuted a 2.5 acre habitat for their cats to "vacation in" with platforms, dens, trees, foliage, a pond and enrichment toys. A sanctuary in Colorado, whose executive director and founder has 35 years of experience in rescuing, transporting, relocating and acclimating tigers and other big cats to their new habitats without incident, can provide a natural habitat 10-20 acres in size on rolling prairie grasslands, complete with swimming ponds and seasonal lakes. They all have underground dens (that stay about 60 degrees year round), shade shelters and play structures, and all kinds of toys and enrichment. His enclosure may be 3200 sq ft, but it's a dismal 1600 sq ft of concrete and a small "grassy area" that offers him no opportunity to run or engage in any natural behaviors. He has been subjected to the noise and smells of the truck stop and the taunting of tourists for 15 years.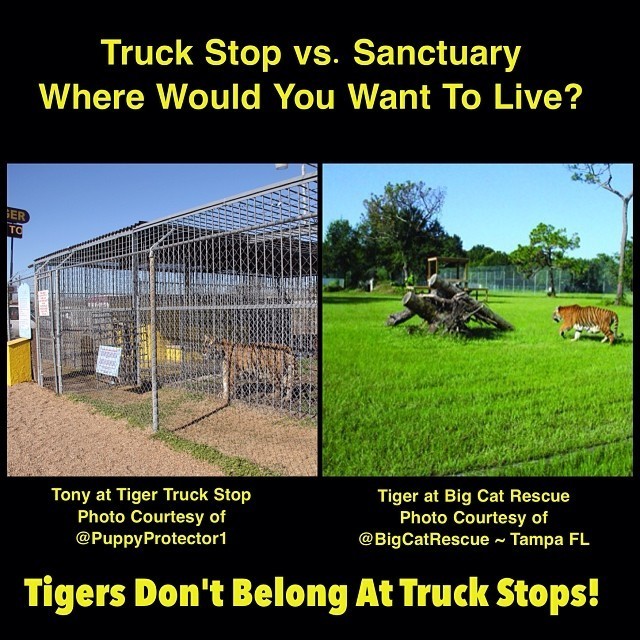 Comparison of Tony's dismal cage at the truck stop and a tiger in a 2.5 acre habitat at Big Cat Rescue in Tampa FL. (Photo ©FreeTonyTheTiger2014, Big Cat Rescue – Tampa FL, PuppyProtector1)
GET SOCIAL WITH TONY!
While Tony's legal case continues, one of the most important ways we can help Tony is by keeping him in the public eye through social media.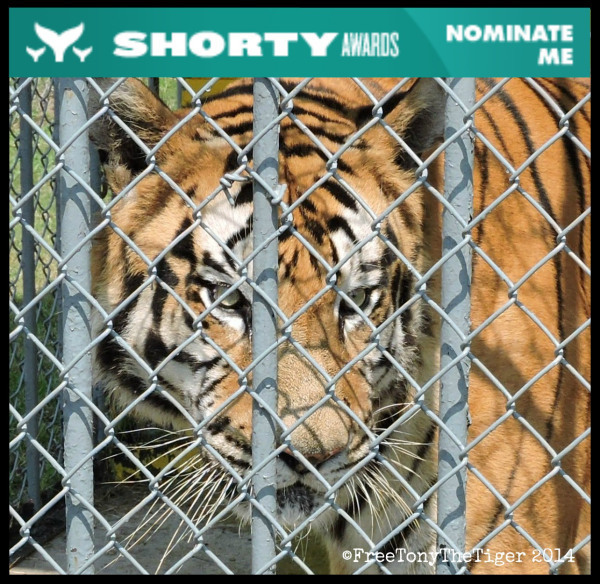 Tony is known on Twitter as the Captive Tiger Ambassador because he raises important awareness for captive tigers in the United States. (Photo ©FreeTonyTheTiger2014)
Tony Nominated For A Shorty Award!
The Shorty Awards recognize the best in social media. Tony's nomination not only raises awareness to his plight, but to the 5,000 plus captive tigers in the United States. Captive tigers suffer in roadside zoos, circuses, and traveling exhibitions; tigers cubs are bred for profit and used in photo & feeding ops, when they are no longer longer "cute" and "legal" to exploit, and turn into 300 to 500 lb. dangerous cats, they face years of captive life in roadside zoos/exhibits and pseudo-sanctuaries. Others are bred to produce more cubs, end up in canned hunts, or are killed and sold on the black market.
Voting ends February 19th 2015 at 11:59pmEST ~ So if you haven't voted please do!
As of this post Tony is in 4th place with 182 nominations. Each Official Category will have 7 finalists. These include 3 with the most nominations from the public, 3 selected by members of the Real-Time Academy and 1 Wildcard Finalist. The Wildcard Finalist will be selected by the Nominating Board from among the top 25 nominees with the most nominations after the nominating period ends.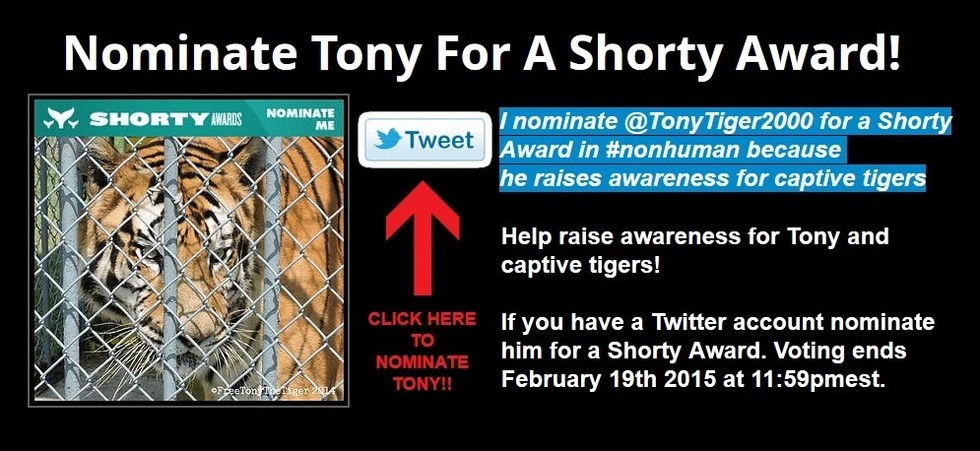 Have a Twitter Account? Click the TWEET button in the picture above to nominate Tony! (Photo ©FreeTonyTheTiger2014)
Ways to Nominate:
Click the Tweet button in the picture above
On Twitter: Send a tweet that starts with:
I nominate @TonyTiger2000 for a Shorty Award in #nonhuman because…
Votes must have a reason after "because…" or they won't count!
Note: Retweeted nominations and tweets starting with @replies do not count toward the rankings. Voting for the same person in the same category more than once just replaces the text of your original vote; it does not count as an additional vote.
Watch and share Tony's Campaign video:
More info on Tony and the Shorty Awards on his blog:
https://freetonythetiger.wordpress.com/2015/01/21/nominate-tony-for-a-shorty-award-tonytiger2000-shortyawards/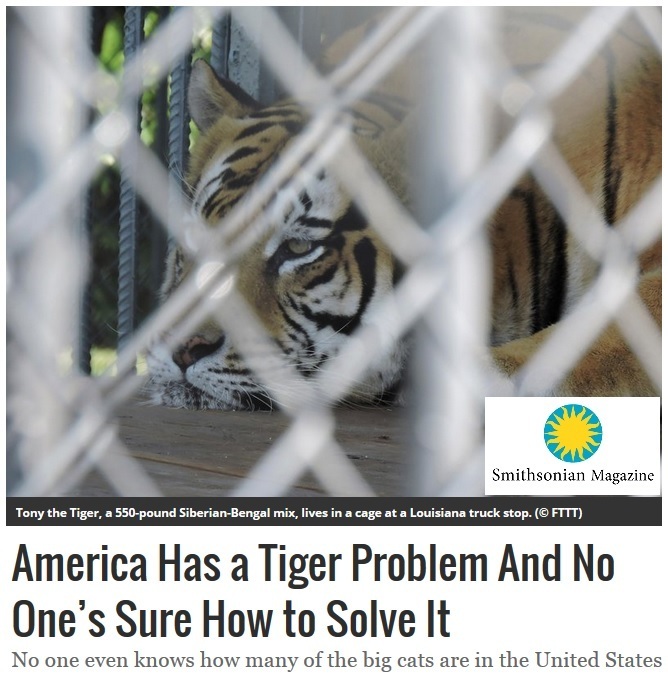 The above picture of Tony appeared in the February 2015 issue of Smithsonian Magazine. (Photo ©FreeTonyTheTiger2014)
Tony's picture was recently featured in Smithsonian Magazine in an article about captive tigers in the U.S.:
http://www.smithsonianmag.com/science-nature/america-has-tiger-problem-and-no-ones-sure-how-solve-it-180953974/
There was also an article in The Guardian on Tony:
https://freetonythetiger.wordpress.com/2015/02/05/the-guardian-meet-tony-the-truck-stop-mascot-dividing-louisiana/
Stay Social With Tony!
Share his Facebook page and posts:
https://www.facebook.com/FreeTonyTheTiger
On Twitter? Follow @FreeTonyTiger & @TonyTiger2000 and Nominate Tony for a Shorty Awards!
Tony has his own Instagram account: @tonythetruckstoptiger
Youtube: http://www.youtube.com/user/FreeTonyTheTiger
Pinterest: http://pinterest.com/tonytiger2000/
Tony's Petition Is Still Open: https://www.change.org/p/ldwf-enforce-louisiana-state-law-ensure-tony-the-tiger-is-released-to-a-reputable-sanctuary Already signed? Please share the link!
Keep ROARING for Tony!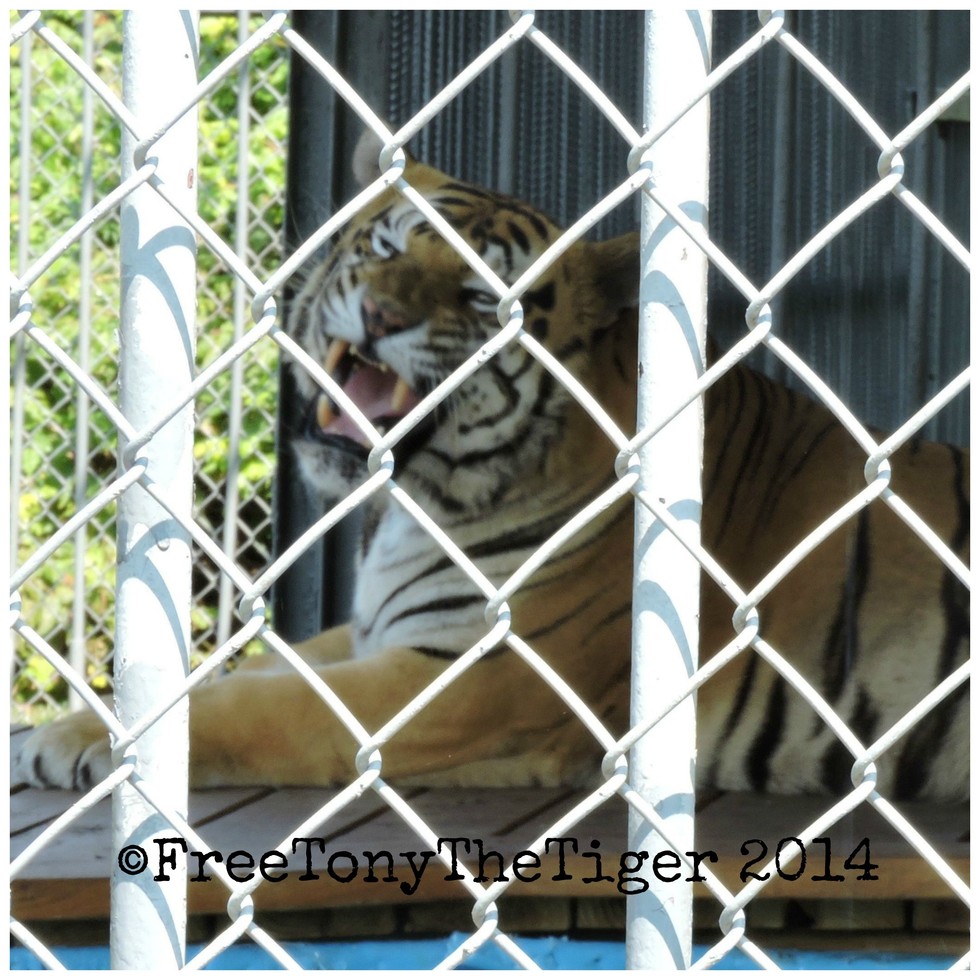 Tony September 2014 (Photo ©FreeTonyTheTiger2014)